Best Smartphone Under Rs 20000 with Latest Features 
Best smartphone under Rs 20000: The modern era is the era of smartphones and smartwatches. In this era, we have already reached a point where it is no longer required to spend huge amounts of money to get some pretty cool features in phones. Even in the mainstream segment, one can come across great deals if you know where to look. 
Let's say you have a budget of around Rs 20000 then you can find a pretty range of the best smartphones as well as the best 5 mobiles on offer. It was in the previous year only that the in-display finger sensors became the trend in flagship phones today. You can get the best smartphone under Rs 20000.
To make your task of finding the right device easier, we have compiled a list of the best smartphones under Rs 20000 that have received positive reviews and ratings from customers. These smartphones offer a blend of impressive specifications, modern design, and enhanced functionality, making them great value for your money. Here are the top choices: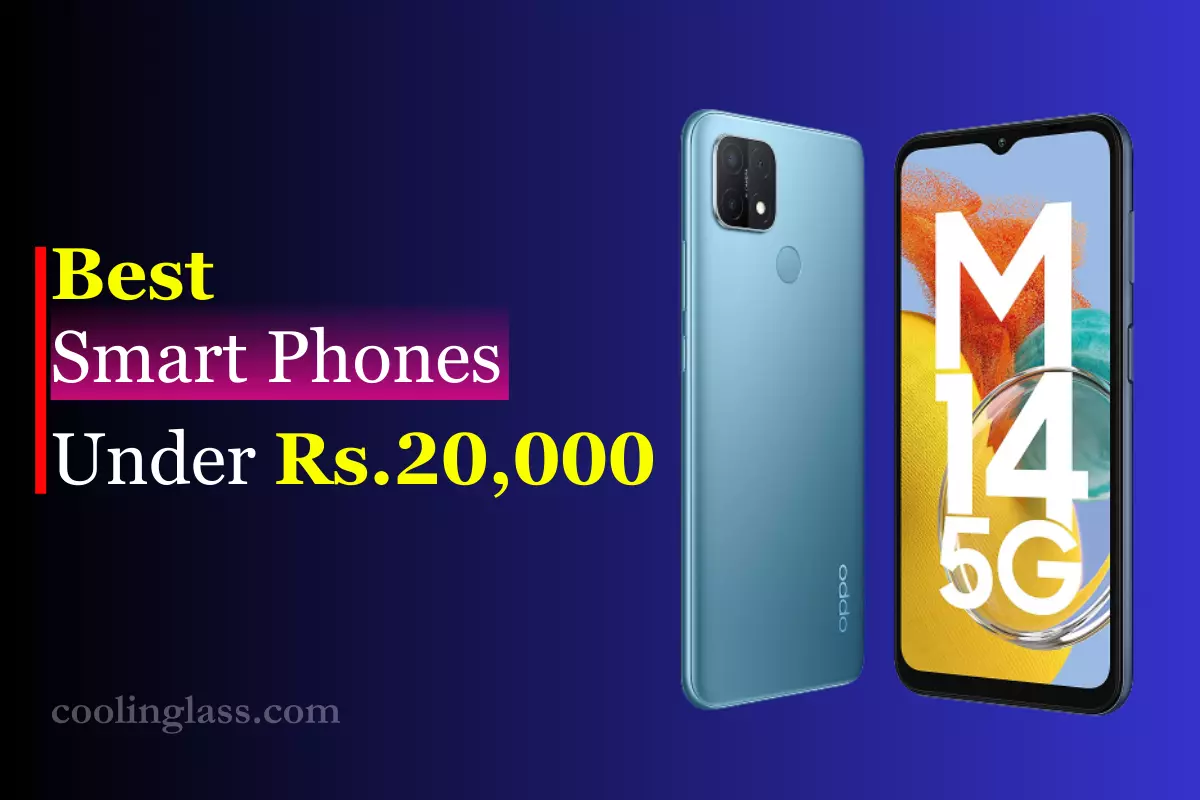 The OnePlus Nord CE 2 Lite 5G is one of the best 5G smartphones under 20000. It features a 64 MP main camera with EIS (Electronic Image Stabilization), along with a 2MP depth lens and a 2MP macro lens. With AI enhancements, dual-view video, HDR night portrait, panorama mode, and retouch filters, you can capture stunning photos and videos. Powered by the Qualcomm Snapdragon 695 5G processor, this phone delivers smooth performance. It also boasts a massive 5000 mAh battery that supports long hours of gaming, streaming, and browsing. 
Price: 17,999 INR.
Redmi is a well-known brand in the budget smartphone segment, and the Redmi Note 11T 5G is a great option under 20000. It is equipped with the MediaTek Dimensity 810 Octa-core 5G processor, based on a 6nm process, and features HyperEngine 2.0 with a clock speed of up to 2.4GHz. The device sports a 6.6-inch FHD+ Dot display with a 90Hz high refresh rate and adaptive refresh rate technology, providing a smooth and immersive viewing experience. Additionally, you get 2 months of free YouTube Premium with this smartphone. Redmi 12C ಮತ್ತು Redmi Note 12 4G ಮಾರುಕಟ್ಟೆಗೆ. ಬೆಲೆ ಕೇವಲ ರೂ 8,999. 
Price: 18,499 INR.
The Samsung Galaxy M33 5G is another top contender among the best 5G smartphones available under 20000. It is packed with an Exynos 1280 Octa-core 2.4GHz 5nm processor, providing a true 5G experience with 12-band support. The phone offers features like intelligent voice focus, power cool technology, and auto data switching. With OneUI 4, optimized for every screen size, you can expect a comfortable and intuitive user experience. 
Price: 18,499 INR.
Realme Narzo 50 is a popular choice for those looking for the best smartphone under 20000. It comes with an Octa-core MediaTek Helio G96 gaming processor clocked at 2.05 GHz, offering excellent gaming performance. The device features a 120Hz high refresh rate display and a 90.8% screen-to-body ratio, providing an immersive visual experience. With a massive 5000mAh battery and 33W Dart charging support, you can enjoy long-lasting usage. 
Price: 12,499 INR.
The OPPO A15s is another contender for the best smartphone under 20000. It features a 13MP main camera, 2MP macro lens, and an 8MP front camera. The device also includes a rear fingerprint sensor for added security. With AI face unlock and eye-comfort filters to reduce damage to the eyes, the OPPO A15s offers convenience and care for users. Powered by ColorOS 7.2 based on the Android version 10 operating system and a 2.3GHz MediaTek Helio P35 Octa-core processor, it delivers a smooth and efficient performance. 
Price: 10,990 INR.
These smartphones offer impressive features and specifications within a budget of 20000 INR. This list has options that meet your specific requirements, regardless of whether you place a premium on gaming performance, camera quality, or sleek design. Carve out the opportunity to assess the highlights, particulars, and costs to settle on an educated choice and find the cell phone that best suits your prerequisites.
Conclusion:
All in all, with the progression of innovation and expanded contest among makers, you can now find reasonable cell phones loaded with the most recent elements. The rundown of the best cell phones under 20000 INR introduced here will assist you with pursuing a very educated choice and picking a financial plan accommodating gadget that addresses your issues for efficiency, diversion, and correspondence. Overhaul your cell phone insight without burning through every last cent!
Read Also: Redmi 12C ಮತ್ತು Redmi Note 12 4G ಮಾರುಕಟ್ಟೆಗೆ. ಬೆಲೆ ಕೇವಲ ರೂ 8,999. 
Read Also: PM Kisan Samman Nidhi ekyc ನಿಮ್ಮ ಫೋನ್ ನಲ್ಲಿ ಚೆಕ್ ಮಾಡಿ
Read Also: ಮನೆಯಿಂದಲೇ ಗೃಹಜ್ಯೋತಿ ಯೋಜನೆಗೆ ಅರ್ಜಿ ಸಲ್ಲಿಸಿ
Read Also: ಮುದ್ದುಲಕ್ಷ್ಮಿಯ ಡಾ.ಧ್ರುವಂತ್ ಆಂಗ್ರಿ ಯಂಗ್ ಮ್ಯಾನ್ ಲುಕ್ ನಲ್ಲಿ ವಾಪಾಸ್
Read Also: ನಿಮ್ಮ ಪ್ರಕಾರ MP Election 2024 ರ ಬಿಜೆಪಿ ಅಭ್ಯರ್ಥಿ ಯಾರಾಗಬೇಕು? ವೋಟ್ ಮಾಡಿ