Earn Money From Meesho
How to Make Money From Meesho, Step By Step Information With Earning Proof, Earn Money From Home With Zero Investment
Earn Money From Meesho: Never Miss the opportunity to earn money from the one and only the best online shopping app with zero investment. Here we provide a complete step-by-step process on how you can earn money from Meesho without investment. 
As you know now a day's everybody is looking to earn money from home itself and stay away from corona to stay safe and become empowered.  Reselling business is now a fast and growing business in India.  Here in this article we will give a complete detail about India's largest and number one reselling app Meesho. 

Using meesho app anybody can start their business with the absolutely zero investment. And become a Successful Entrepreneur.

What is Meesho, how to install meesho, how to make money from Meesho, what is margin price, how to set margin price, how to place an order, how much we can earn from meesho. All the detail we will discuss in this article. I am sure after reading this article step by step then you will be clear on your all doubts about this. And you will start a business in Meesho.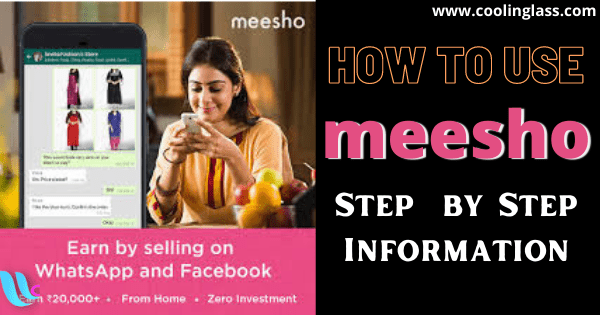 Read Also: Earn Unlimited from Angel broking DRA
Why Meesho?
There are already more than 1 Crore reseller has joined Meesho and made their livelihood stronger. There are many resellers earning more than 25000 per month.
Key points to trust meesho:
• Hit product at lowest costs
• Best Quality with simple return policy
• Doorstep Delivery everywhere India
• Online & COD Payment choices
• Best reviews from everywhere customers
Step by Step Information
You can earn with Meesho by reselling fashion and style products on Whatsapp and Facebook and different social media sites.
Selling with meesho is incredibly simple and straightforward as compared to Amazon and Flipkart. Here you don't get to be compelled to be a locality of any affiliate programs like Amazon, Flipkart.
All you just need to do simple straightforward steps. Go through below all steps.
Click on the given download link it will redirect to the google play store. Download and install the Meesho app. Note that you can download the app in mobile-only. It's a completely mobile-based earning app. You cannot do this business on your desktop or laptop. But you can only browse in the system.
                  1.       Install the Meesho App
                  2.

      

Click To Continue
                  3.

      

Enter Active Mobile Number
                  4.

      

Click To Send OTP  
            5.

      

Enter the OTP which is received to phone message (Most of the time  OTP

  fetches automatically from phone).
                  6.

      

Click on Continue
                  7.

      

Your Meesho Profile will be created.
Click Here To Download Meesho App
Step 2. 

Enter Referral Code

(If you have option Then only follow this step) 
If you have an option to add a Meesho App Referral Code then enter IVBJVNW27778
The best thing is if you enter this referral code in your app then you will be benefited from up to 150 rupees off to your first order. Therefore this could be a double benefit for you. Just In case you're placing your 1st order for yourself then you will avail of this benefit. If you are placing your first order for your customer then there you can avail of a double benefit.
1.

      

Click On Account 
2.

      

Click On Enter Referral Code
3.

      

Enter the Referral code

IVBJVNW27778
4.

      

Click on Submit.
Step 3.  Update Bank detail
Meesho will pay you your earnings directly to your bank account. For that, you need to update bank detail to receive your earnings. It may be your referral earnings or reselling earnings.
You no need to give withdrawal yourself anywhere in-app. By the way, there is no withdrawal option given in-app. This will happen by backend from Meesho team. The reselling product's profits you will be paid only after the order delivered and its return period is over. In case of placed order canceled or returned then you will be not be paid your profits of that particular product.
                  1.

      

Go to Account in app
                  2.

      

Click on My Bank Detail
                  3.

      

Enter your complete back detail along with IFSC Code
                  4.

      

Account should be active
                  5.

      

Authenticate You bank detail.
                  6.

      

Save the detail
Step 4.

 

Browse

 

catalogues
First, browse for best selling products. In this step, you need to be smart. Because the meesho always provides the daily offers, best deals, and most sold out products. So just try to catch the best deals which have been rated top. Make sure whichever products you select check for the reviews before posting to your contacts. Because never compromise with the quality of products. So that the customer should stay with you for their next order as well. In the Categories section, they provide all the types of products like Women's wear, Men wear, Kid wears, Home & Kitchen, jewellery, Electronics, Health, Accessories, Electronics, etc.
                   1.

      

Go to Categories
                   2.

      

You can also choose from Home section also
                   3.

      

Select required products
                   4.

       

Keep a note of the product's price
                   5.

      

Click on Share Now whatsapp button
                   6.

      

Share to group or Status in whatsapp
                   7.

      

Products pictures will be shared in whatsapp along with catalogues detail
                   8.

      

You can download pictures to your gallery
                   9.

      

Also you can share the products on Facebook, Instagram, telegram to hire the customers.
Download Meesho and get 150+ Rs Discount for your 1st order
Step 5.  Place order / Create Margin
Here I come to the important point. Let's learn how to place the order in the meesho app. Once you get the sales order from your customer, collect the order number first. Then take the delivery address from the customer. While placing the order you can make your margin profit.
Creating a Margin is the main step where you can think of your profits by selecting a margin amount. Guys remember one thing please don't greedy about the profits. Always keep the average margin. So that the customer will trust your sales. In business always trusts matters.
1.

      

Receive Product Order from customer
2.

      

Collect the order number. You will find the order number at bottom of Product image.
3.

      

Once you find the order number, search that product in search area using that product number.
4.

      

If you find the products direct without search, then well and good.
5.

      

Click on the products
6.

      

Add that product to the cart with the required quantity. Remember, only one      product you can add to the cart at a time. Quantity can be anything.
7.

      

Go to cart at top right corner of App
8.

      

It will take you directly to the payment method.
9.

      

Select your preferred payment method. It can be COD, Online,     Paytm,  PhonePe.
10.

  

Here you can edit your required quantity. And then click on proceed.
11.

  

Add margin price. In this step you need to add the amount to be collected   from customer. As per govt guidelines, the amount should not be greater     than  the MRP. The margin structure is like, Product's Original Price + your   Profit Price.
12.

  

For Example, original price of product is 500Rs and margin amount 50Rs.   Then the amount which is to be collected from customer is 550 Rs. Here 50rs   is your profit, which is directly transferred to your bank account.
13.

  

Enter Shipping Address
14.

  

Proceed
Please Note:
·         If you choose a Cash On Delivery order, your customer will do the payment to Meesho's logistics partner.
·         Once Meesho receives the payment, they will transfer your margin to your bank account within 10 working days.  
·         If you make an e-payment, then please collect the final amount (including your margin) from your customer and place an order on meesho.
Create Own Shop Name For Your resell Business:
In Messho App you can create your own shop name for reselling and also you can make your identity through a new logo.
 

Earn Money By Referring to others
Meesho isn't just for those who want to sell products on this app, this app is additionally the simplest app for getting the product for yourself and thus each kind of individual will use, it the People who want to buy the product as well as people who want to resell the product.
So here is our next chance to earn money from Meesho, you can tell your friends and relatives to download the meesho app from your referral code and they will definitely purchase products from meesho.
Meesho is providing a different variety of catalogs of products at the best price and the product quality of meesho is also the best.
On every purchase of your friend, you may get a commission.     
Commission rates are:
20% commission on your customer's 1st five orders and five percent commission for the first six months and 1% commission on the sales for eighteen months.